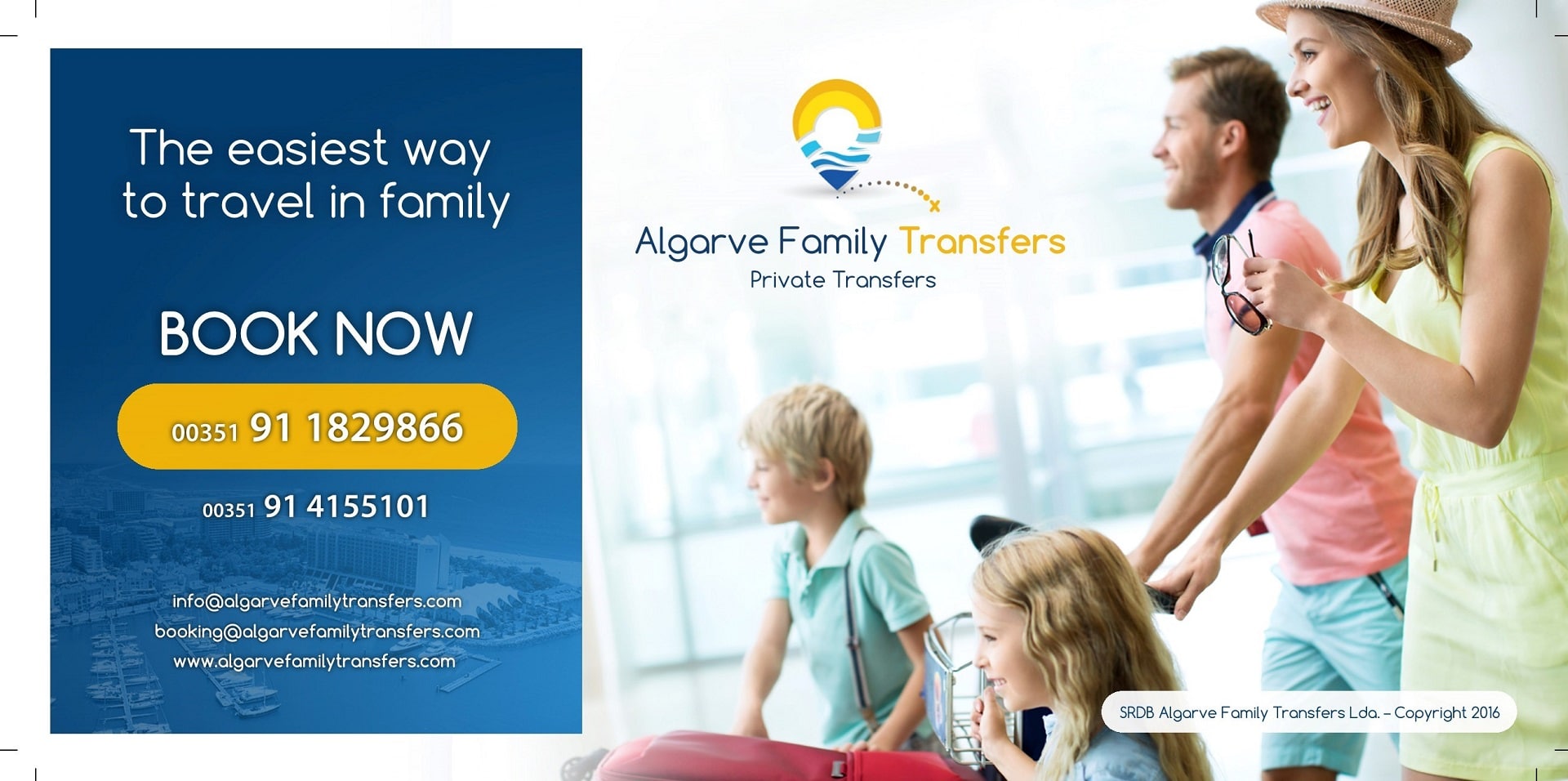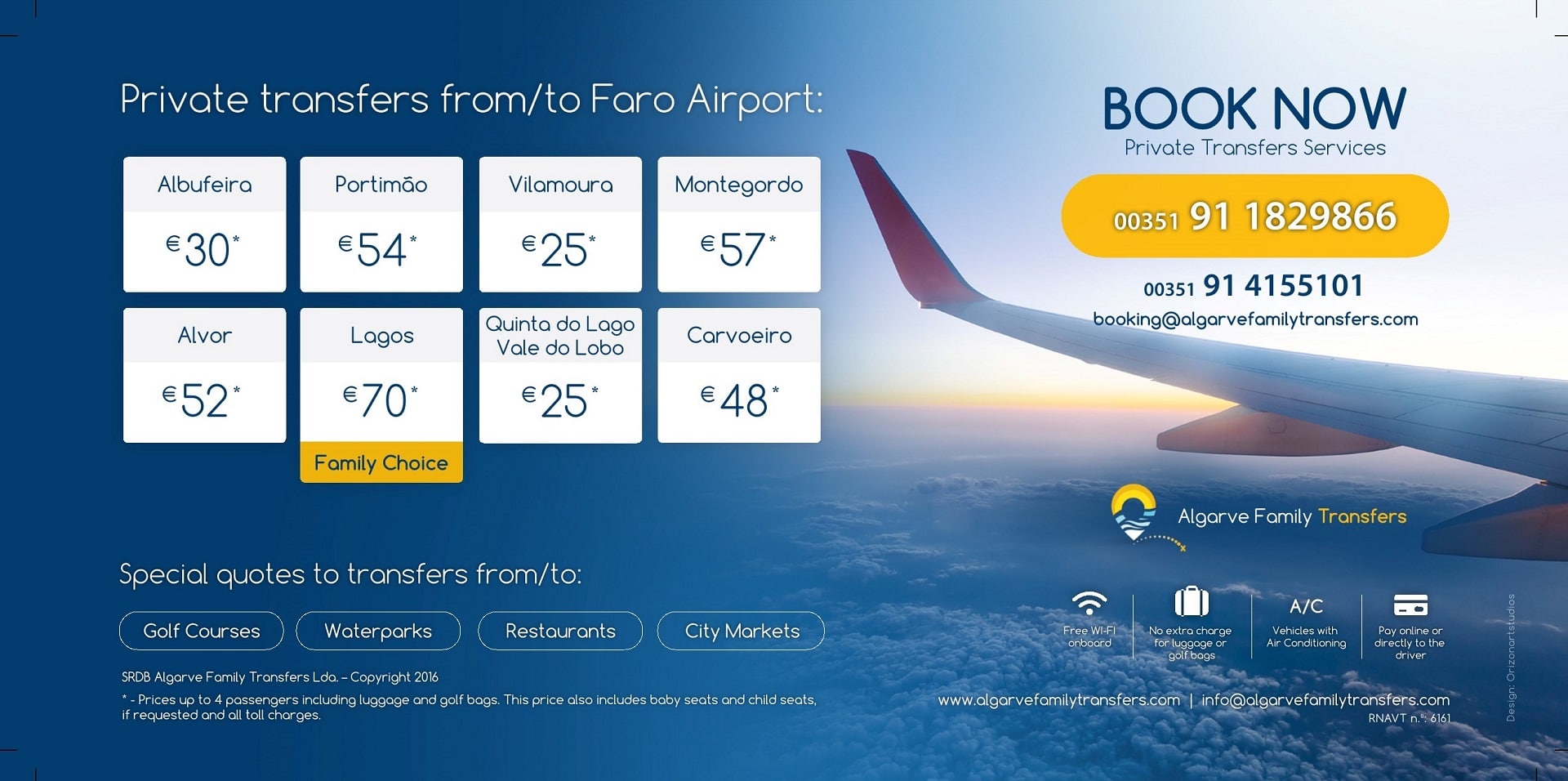 About Us
Welcome to Algarve Family Transfers
SRDB Algarve Family Transfers, Lda. based near Faro Airport is a private travel company specialized in private transfers services, incorporated in 2016. Despite being quite recent, we have an extensive experience in the market over the last 13 years.
Our company is licensed by Turismo de Portugal (RNAVT n.º 6161) and gathers all the insurance and safety legislation requirements for this activity.
We provide private door-to-door airport transfer service to and from Faro International Airport to any Portugal or Spain destination, as well as to golf courses, waterparks, restaurants, city markets…
Our vehicles are modern and comfortable mini buses, fully equipped with air conditioning, free wifi, baby seats and child seats.
When you book a transfer with Algarve Family Transfers, you will be received by a friendly and professional driver with years of experience on private transfers, fluent in English, well disciplined and dedicated to provide you the best service based in his experience and extensive knowledge of the Algarve and surrounding areas. Our drivers are always promptly to help you and clarify any questions that you may have.
We are proud to have competitive prices and to offer the best quality service in private transfers.
Serviço 5*
Serviço de transfers dos melhores que já reservei, carrinha em excelente estado e condutor muito simpático que nos levou do aeroporto até ao hotel! Relação qualidade preço fantástica, bem mais barato que um táxi!
JSilveiraa
Faro, Portugal
Ótimo serviço e atendimento
Tanto o motorista Daniel quando a Sofia do atendimento foram muito atenciosos e prestativos. Recomendo!!!
Super !!!!
Algarve Family Transfers können wir zu 100 Prozent weiterempfehlen. Daniel ist ein sehr guter Autofahrer, ist hilfsbereit, pünktlich und spricht sehr gut englisch. Die Preise sind günstig, das Auto sauber und gut. Die Kommunikation per eMail auch 1 Tag vor Anreise war schnell und professionell. Wir werden auf jeden Fall die Dienste wieder in Anspruch nehmen sollten wir wieder an die Algarve reisen. Vielen Dank an Daniel.

Grüße aus Deutschland
Tanja
Excellent rapport qualité-prix
Notre réservation, puis les trajets effectués se sont déroulés de manière parfaite. Le chauffeur du van était ponctuel, courtois et attentionné.

Je recommande vivement cette société !
Excellent services
Transfer was well in time both ways. Taxi driver was very kind and helpfull. Booked the cab less than 1 day before our arrival and still perfect services. The transfer back to the airport one weke later was immediately arranged with the taxi driver the moment he dropped us off at our apartment, which was very convenient. The price was very good, considering the services delivered.
Ester v
Brilliant service for private transfer
Fabulous service by the driver Daniel, very punctual and friendly. He even gave us brilliant tips for exploring the area! We will be using this company again.
jXkeogh
Leeds, United Kingdom
Thank you very much "Algarve Family Transfers"
Great service! They work like clockwork – very professional! The drivers speaks English. Very reasonable prices, independent of the time of day. I recommend, will use again!
Svetlana M
Excellent
We were collected from the airport by Daniel, the owner of AFT, who was very friendly. It was our first time travelling with our baby son and Daniel helped us hop around the Algarve with ease. A safe and convenient service, we highly recommend it.
YinYanger
prompt reliable service
Returned last Monday after using this company for the first time and wont be the last 'was greeted at the airport with name on a sign and was taken safely to our apartment and with our return arranged for 5am we were greeted by company boss daniel and yet again taken safely to our return flight.excellent service by friendly staff
wayneswind0ws
North Yorkshire, United Kingdom
Excellent Transfer Service
Algarve Family Transfers is an excellent very professional and reliable service with reasonable prices. Daniel is very amiable and extremely helpful. Booking online was easy with a very prompt reply, this company is very highly recommended.
nancydavidso46
Edinburgh, United Kingdom
"Compete ell priced reliable airport transfer"
Having been charged €65 for arrival transfer we searched for a cheaper alternative for return travel from Carveirio to Faro Airport.
This firm was well recommended in tripadvisor and indeed was excellent. Arrived in good time, helped with bags, and had a comfortable clean car. The transfer was unhurried and the fiendly owner has an enjoyable chat with us along the way.. The fare was €48 so much better.

Visited October 2016
dsbadham
Milford on Sea, United Kingdom
"Airport transfer to Vilamoura"
Great service from Daniel for both transfers. great communication and everything as planned. Spoke excellent english and gave us lot's of interesting info on the area. Highly recommend and will definitely use again. Thank you.
peterreakes
South Yorkshire, United Kingdom
"Perfect timing and friendly service"
Algarve transfers arrived 10 mins early at both ends and provided a fantastic service with full and up to date information on best places to visit in the whole area. We were driven by Daniel who took care of everything.

Visited August 2016
W8525XYjohn
Manchester, United Kingdom